There are many different types of Christmas trees. The three main types of Christmas trees in the UK are the Nordmann Fir and the more recently popular Fraser Fir. The Nordmann Fir is often referred to as the "non-drop" Christmas tree and is the most popular choice in the UK due to its strong needle retention and softer needles, making it a family-friendly option for indoor use.
The Fraser Fir is a relatively new addition to the UK market and has been gaining popularity as a slimmer alternative for those who desire a tall tree but have limited floor space.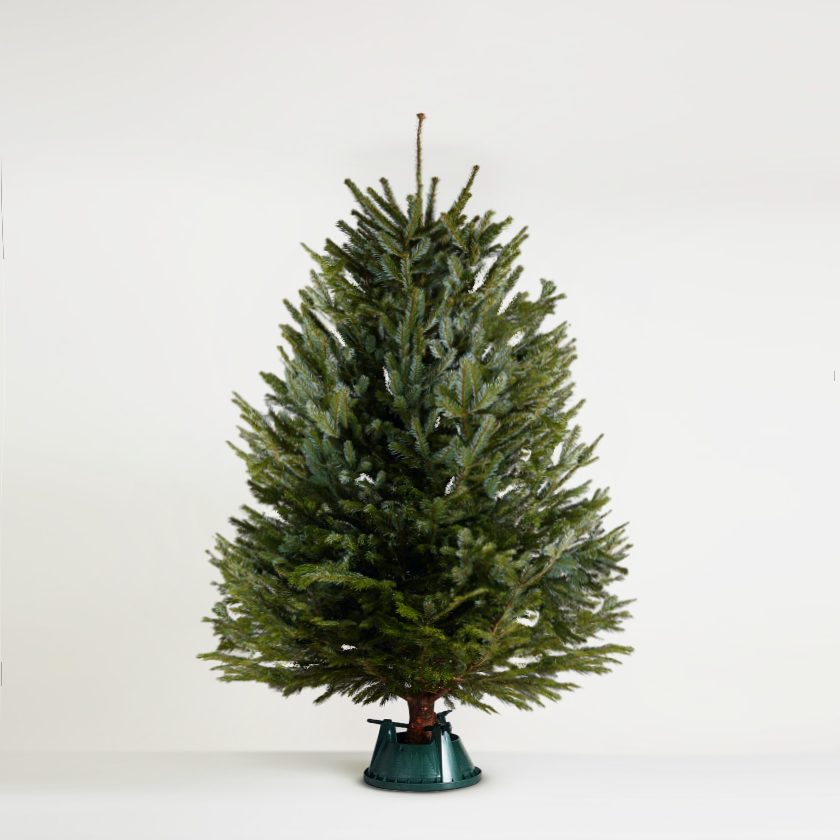 Nordmann Fir Christmas Tree
The Nordmann Fir is the most popular Christmas tree in the UK due to its classic shape, dark green glossy needles, and child and pet-friendly nature. It holds its needles well, even after being cut, making it ideal for warm indoor conditions.
The Nordmann Fir has gained popularity in recent years for its excellent needle retention qualities, allowing for a beautiful and worry-free Christmas tree. While it is often referred to as a non-drop tree, its needle retention is excellent and it is more heat-resistant than the Norway Spruce. This Christmas tree has soft, deep green foliage, smooth grey bark, and a classic triangular shape. The needles can emit a fresh, clean, citrus smell. Learn more about Nordmann Fir Christmas trees here.
Shop Our Nordmann Fir Collection Here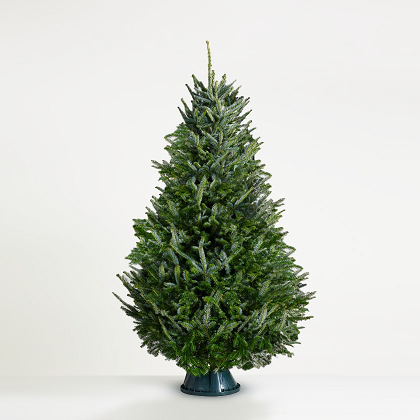 Fraser Fir Christmas Tree
The Fraser Fir is a pyramid-shaped tree with upward-turned branches, giving it a compact and dense appearance. Despite being dense with branches and needles, Fraser Fir trees are narrower than Nordmann Firs, making them suitable for smaller spaces. Fraser Fir Christmas trees are popular in the US and gaining popularity in the UK. They have excellent needle retention and are considered 'non-drop' trees. Unlike Nordmann Firs, Fraser Fir trees have a delightful scent with a hint of citrus, reminiscent of Christmas. If you're torn between a Nordmann Fir and a Norway Spruce, a Fraser Fir could be a great compromise, combining the non-drop features of the Nordmann Fir with a traditional Christmas tree scent. Learn more about Fraser Fir Christmas trees here.
Shop Our Fraser Fir Collection Here